The Dreamer
Student project at Academy of Art University
-
Mobile UI/UX, Interaction Design
-
6 weeks project



BRIEF
Explore of a chosen topic that identifies an everyday problem and develop a solution through a design approach. Create an app that documents and analyzes dreams.



---
Design Principles
DESIGN PRINCIPLE #1
The function should support the user to easily document their dreams.

DESIGN PRINCIPLE #2
Getting users to use the App habitually.

---
Ideation


Since I only had 6 weeks to finish the entire prototype, I quickly dived into ideation after research.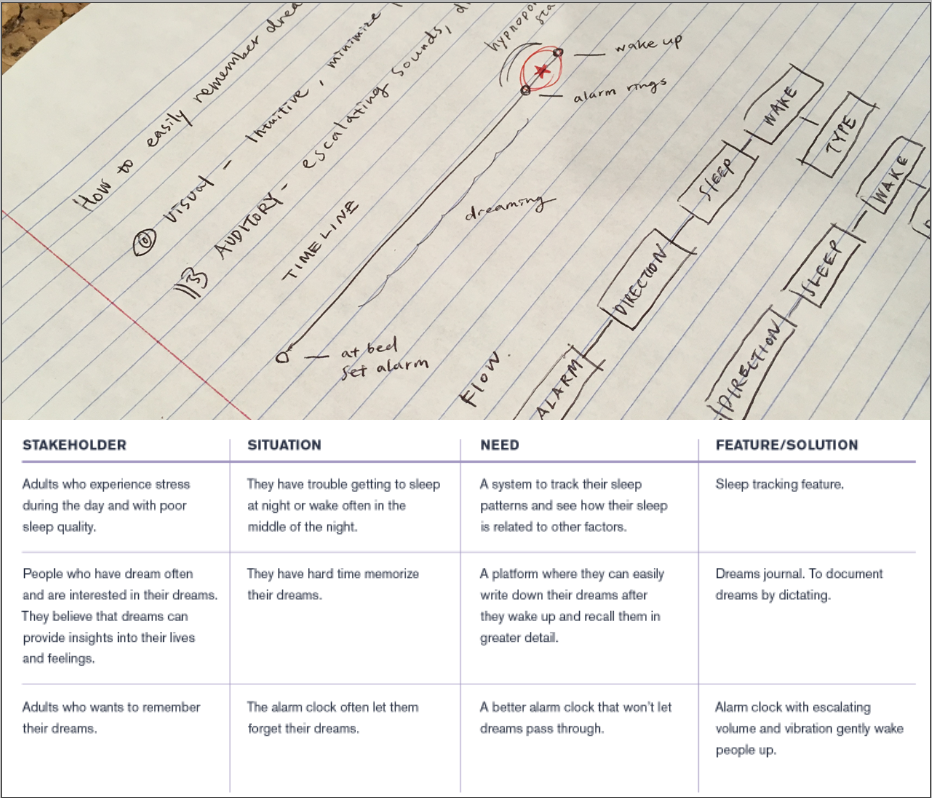 IDEATION ON S.N.N.I.F. AND FLOW
From the difference between visual, and auditory feedback in a sleeping environment, I concluded:
Visual: Minimise cognitive load

Auditory: Can use a series of escalating alarms to wake you up. The gradual increase in volume helps you better remember your dreams by taking you through your hypnopompic state (the transition from asleep to awake) much slower than a standard alarm clock.
COMPETITIVE ANALYSIS
I did additional research for current apps in the market with the goal of:
Understanding the pros and cons of different alarm UI

User flow of the process from setting the alarm to recording function
USABILITY TESTING
After final sketches, I did a quick prototype and here are some insights:
Alarm UI feels mechanic, could be more visual oriented
The "stop alarm" buttom could have more ralationship with the upcomming action
Include simple questions to help jog the memory
COLOR SCHEME
The main color is purple since it often associated with wisdom, creativity, and magic. Combined with light yellow and orange represents incredible ideas that came from dreams.