THE DREAMER

Student project at
Academy of Art University
-
DISCIPLINE
Mobile UI/UX, Interaction Design
TIME
6 weeks project


Explore of a chosen topic that identifies an everyday problem and develop solutions through a design approach. The dreamer is an app that documents and analyzes dreams.



---
Sleep is where some of humanity's
most incredible creations got their start.

What would happen if we remenbered?
---
Design Principles
DESIGN PRINCIPLE #1
The function should support the user to easily document their dreams.

DESIGN PRINCIPLE #2
Getting users to use the App habitually.

---
Ideation


Since I only had 6 weeks to finish the entire prototype, I quickly dived into ideation after research.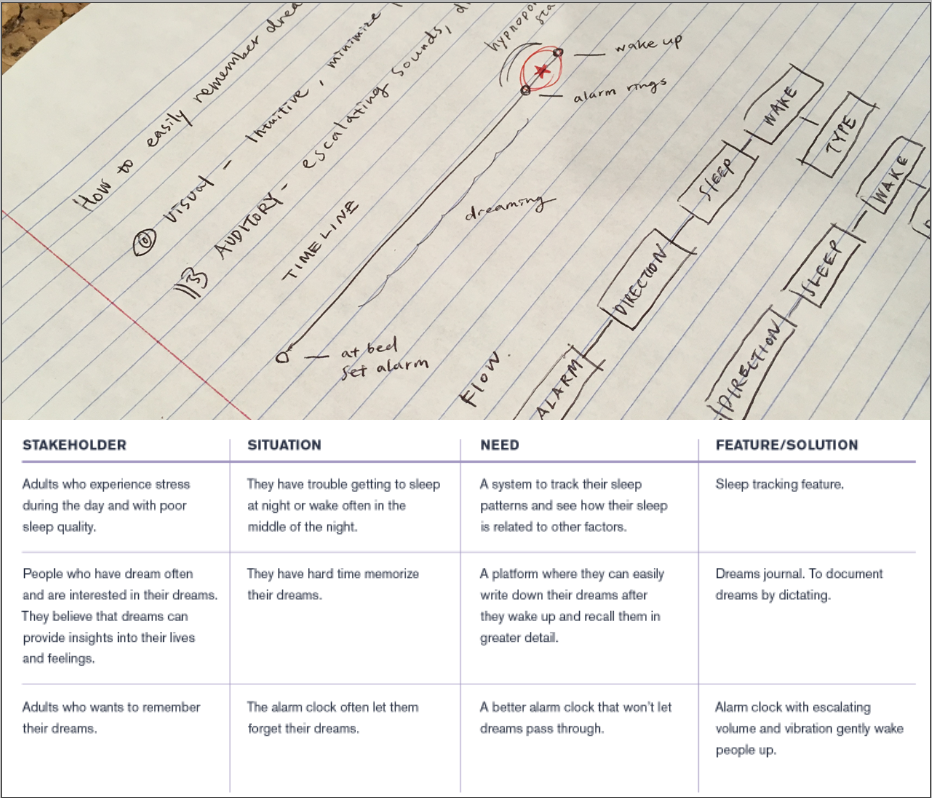 IDEATION ON S.N.N.I.F. AND FLOW
From the difference between visual, and auditory feedback in a sleeping environment, I concluded:
Visual: Minimise cognitive load

Auditory: Can use a series of escalating alarms to wake you up. The gradual increase in volume helps you better remember your dreams by taking you through your hypnopompic state (the transition from asleep to awake) much slower than a standard alarm clock.
COMPETITIVE ANALYSIS
I did additional research for current apps in the market with the goal of:
Understanding the pros and cons of different alarm UI

User flow of the process from setting the alarm to recording function
USABILITY TESTING
After final sketches, I did a quick prototype and here are some insights:
Alarm UI feels mechanic, could be more visual oriented
The "stop alarm" buttom could have more ralationship with the upcomming action
Include simple questions to help jog the memory
COLOR SCHEME
The main color is purple since it often associated with wisdom, creativity, and magic. Combined with light yellow and orange represents incredible ideas that came from dreams.
BELL CENTENNIAL TYPE SPECIMEN
Student project at
Academy of Art University
-
DISCIPLINE
Print, Visual System, Typography
-
Creative Quarterly
2018 Issue 53 Graphic Design: Student Winner

HOW International Design Awards
2018 Student work: Merit Award

Creative Quarterly
100 Best 2018

Create a specimen kit for a chosen typeface. Bell Centennial, designed by Matthew Carter, was commissioned by AT&T in 1974. This telephone directory typeface was designed for aesthetic and technical reasons. The special deep ink traps allows the ink to fill in and smooth out the character stroke, which solves industrial issues.

APPROACH
This type specimen kit brings more attention to this wonderful typeface, Bell Centennial. To celebrate the beauty of the delightful inktraps and to communicate with readers that this typeface not only is legible in extremely small point size, but also looks good as display type. I used pink and Persian green to create retro feeling with a modern twist to reintroduce this beautiful typeface.

A HARVEST HIDDEN IN
PLAIN SIGHT

Student project at
Academy of Art University
-
DISCIPLINE
Print, Illustration

-

Design a conceptual cookbook on a chosen topic. Create a cohesive visual system representing the look and feel of the cuisine. This conceptual cookbook introduces the benefit of common edible weeds in California to the public. Recipes from main course to dessert that use weeds as the main ingredients to encourage people reconnect to nature.

APPROACH
To forage in the wild seems like a fun and relaxing activity, but it actually needs a certain level of knowledge and experience. The forager must be good at observing the natural environment in order to search for food and make sure it is safe to eat. I illustrated plants with call outs to make characteristic and uses of the plant easy to understand. The earthy color palette and the cream paper stock with texture on it convey nature and the spirit of foraging. The typeface, Berthold Akzidenz Grotesk reflects the quirkiness of the plants, Bernier Distressed brings out the roughness, and Daddys Hand indicates warmth.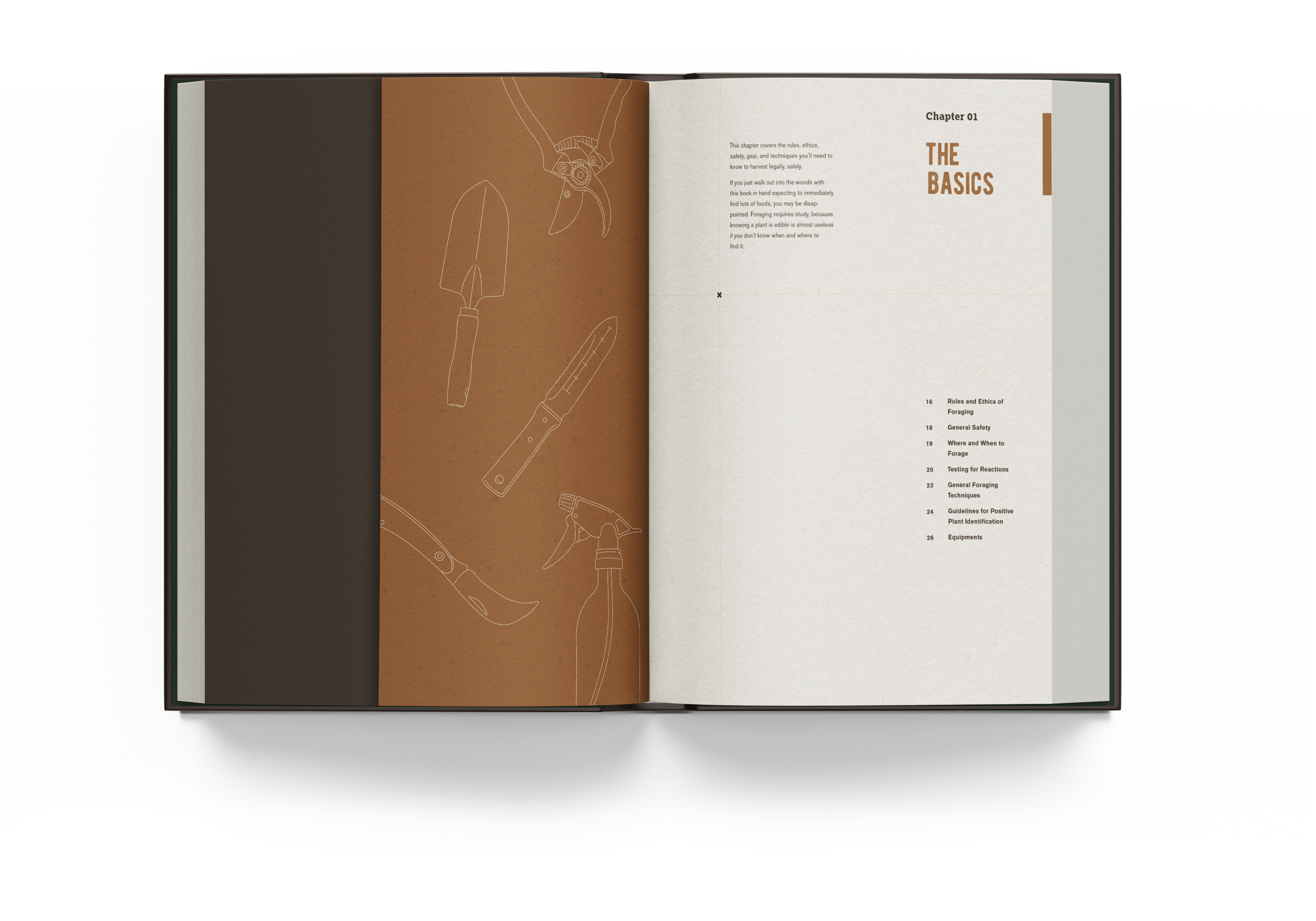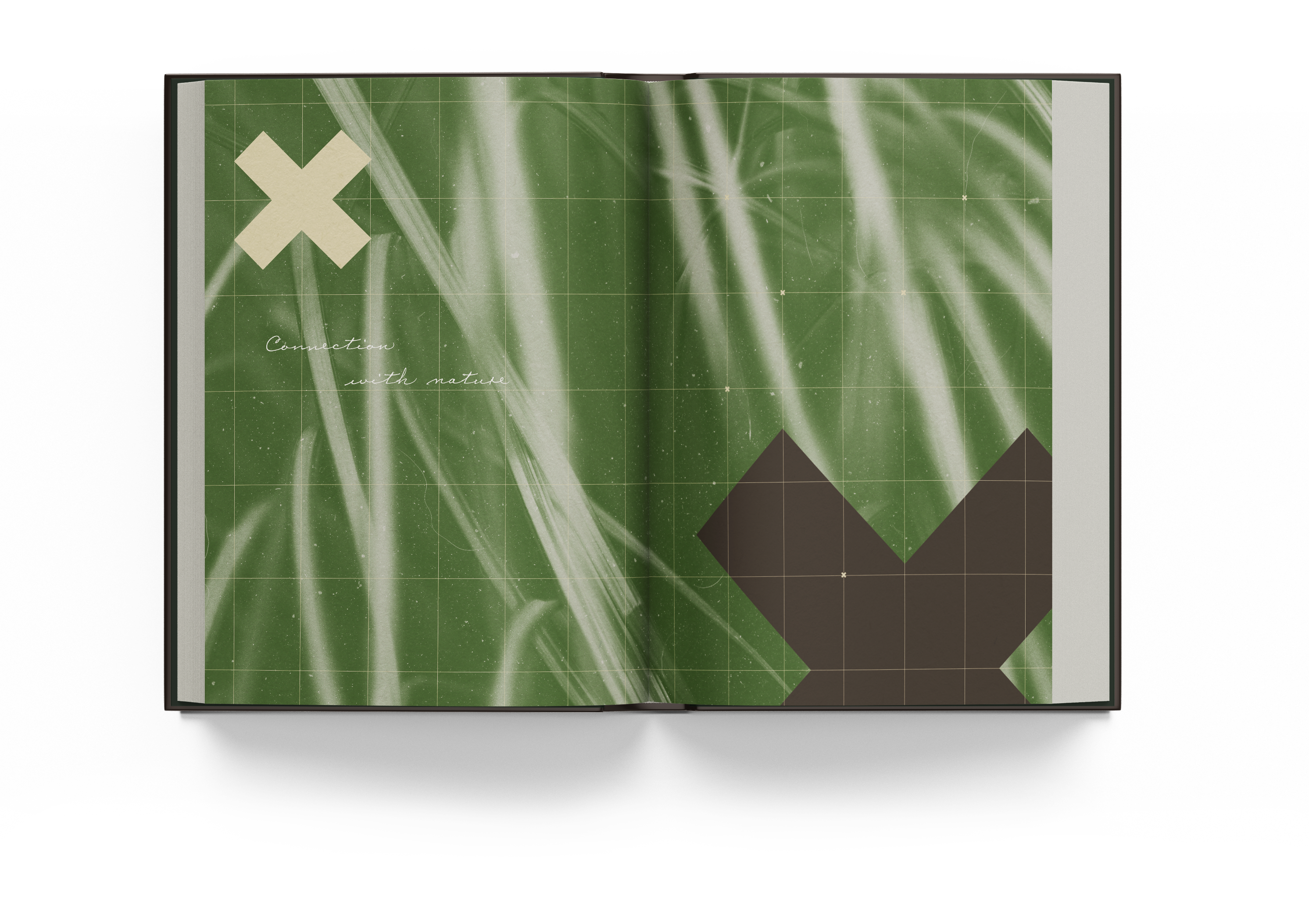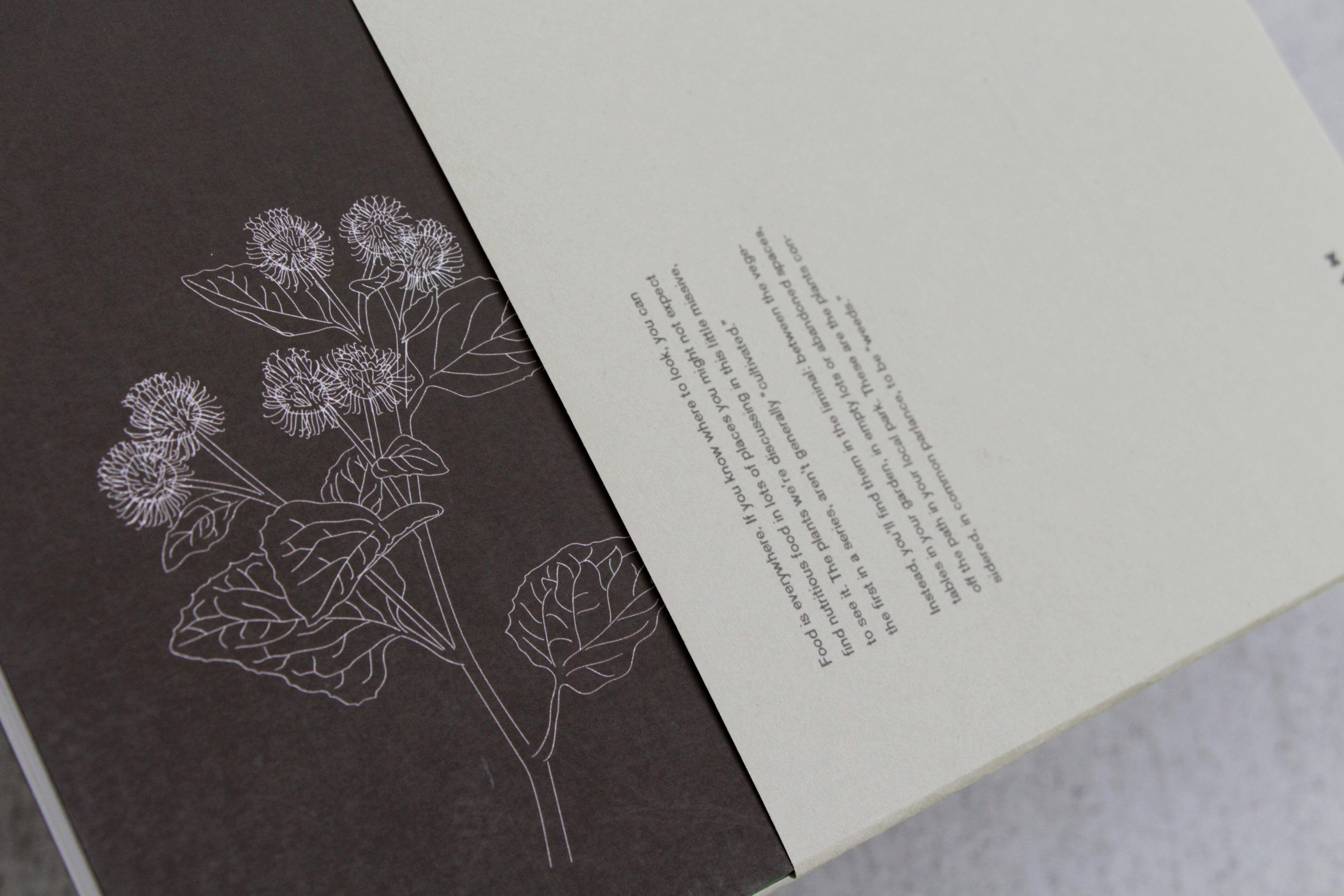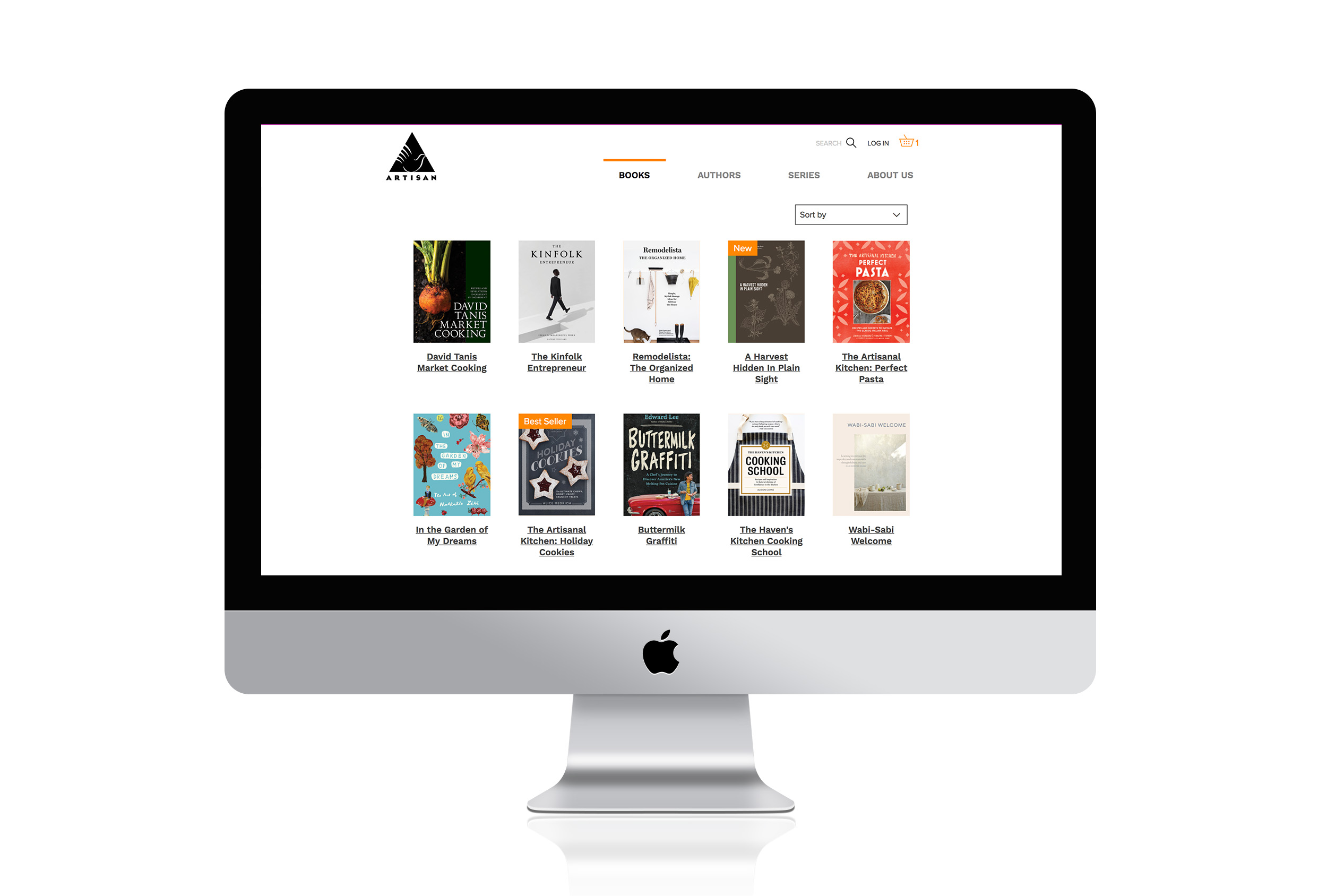 MATCHBOX REBRAND

Student project at
Academy of Art University
-
DISCIPLINE
Branding, Strategy


To rebrand a dead, dying or defunct brand, to give it new life.
Create a new marketing strategy and visual system while retaining the brand's original essence.

APPROACH
Matchbox is a popular toy brand which was introduced by Lesney Products in 1953, and is now owned by Mattel, Inc. By the 1960s, Matchbox was the largest brand of toy die-cast cars worldwide, churning out a million of the tiny cars per week.

The new Matchbox will evolve beyond simply selling the toys. Instead Matchbox provides you with limitless options of what fun can be within constraints. And let you immerse yourself in the world of fun. From this point, Matchbox can be turned into a brand that helps people face life's obstacles. To cultivate enjoyment in life through partnership with organizations and companies that have the same objective and commitment to create positive impact.

* This is a student project. It is created for academic fair use and is not intended to represent the Matchbox brand in any way.*




To achieve mission of the brand, the new Matchbox brand expends fun from school to home and work. Each catagories has various products and services for people to enjoy their life with more fun.

NIGHT SCENE

Student project at
Academy of Art University
-
DISCIPLINE
Print, Art Direction


PHENOMENON MAGAZINE ISSUE NO.01
–Night Scene

Design a conceptual magazine about natural phenomenon. Each issue will focus on one specific phenomenon and explore the topic in a artful way. As you go through the magazine, you can also see the unique insights, special folk tales and experimental visual works.