VOLUME INC. INTERNSHIP

Aug 2019–Mar 2020
-

Collaborated with the creative directors, designers, and project manager to develop visual systems along with design research and expanding graphic assets.
Volume Inc.
Principal / Creative Director: Adam Brodsley, Eric Heiman
Senior Project Manager: Nicole Sorci
Designer: Jon Hioki, Yuya Yoshida
MAIN PROJECTS I PARTICIPATED IN

-
Artisan, Thomas Keller Cookbook
Capilano Suspension Bridge Park
Google, Spruce Goose (Pitch)
Volume show @ University of Kentucky "This will (not) be easy." more→

SKINDEPENDENCE

Student project at
Academy of Art University
-
DISCIPLINE
Branding, Print, 3D Modeling,
UI/UX Design
Skindependence is a reliable source of scientifically based skincare information that helps people choose the right skincare products by educating them about skincare and understand what their skin is trying to tell them. The brand aims to break the myth in skincare and reveal the truth to the public.
/
Process Book→
There's no "one-size fits all"
approach to skincare.
— Hanna, Sephora Powell St. SF
Skincare Consultant
---
Deliverable 01
Event
A strong way to get the word know my brand and to connect to my audience was to create an event. An skincare event that will have dermatologists to help answer your skin questions and educate people the right skincare knowledge.

Driver: Skindependence promotes the idea that everyone's skin is unique and needs individualize skincare system.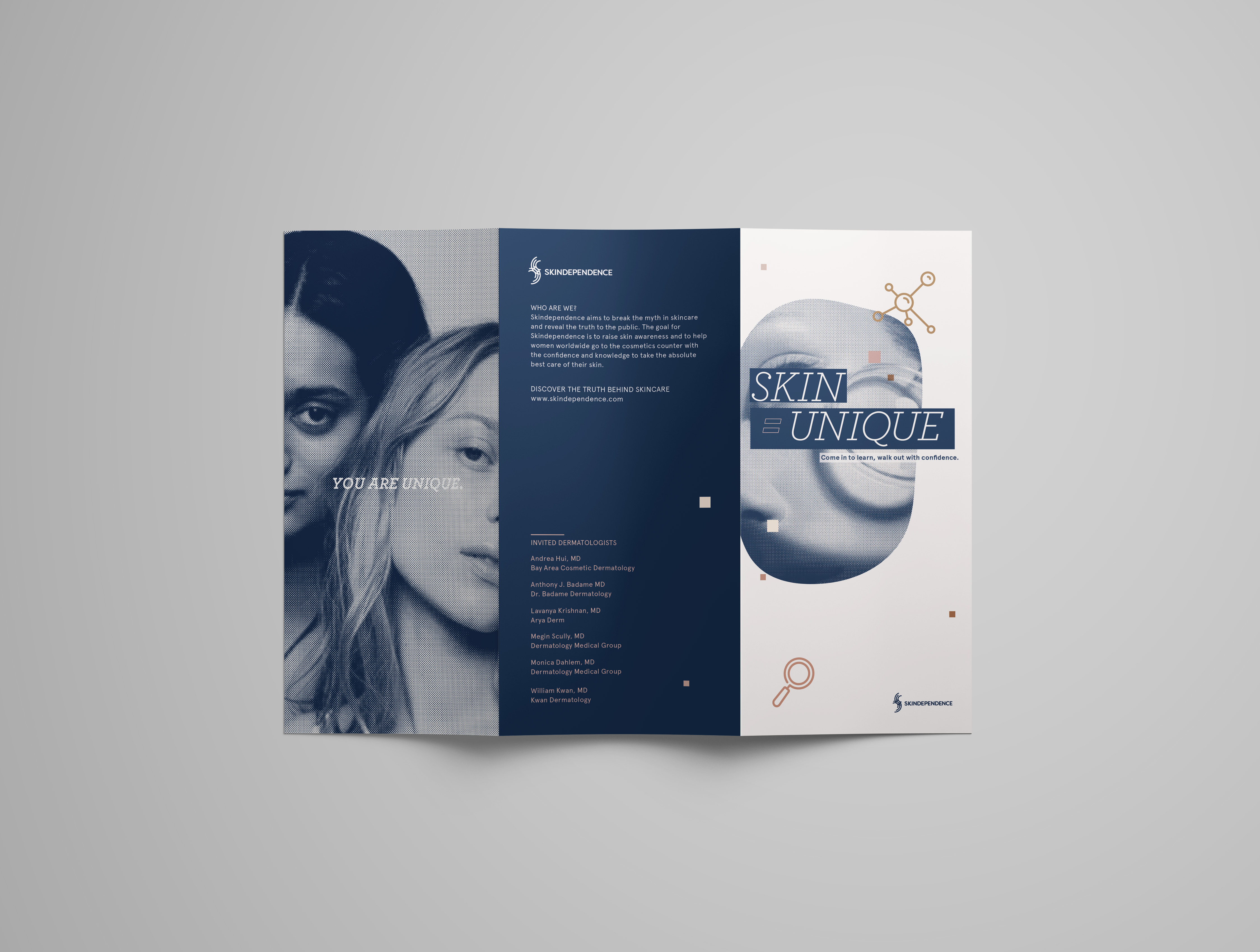 ---
Deliverable 02
App

This app can examine products for harmful or toxic ingredients by scanning the barcode. This app can provide immediate help and guide people how to choose. Also, there's a skincare box feature. Users can shop for samples on there before they buy the actual size skincare product.

Driver: Skindependence helps women worldwide to gain confidence and knowledge to take the best care of their skin.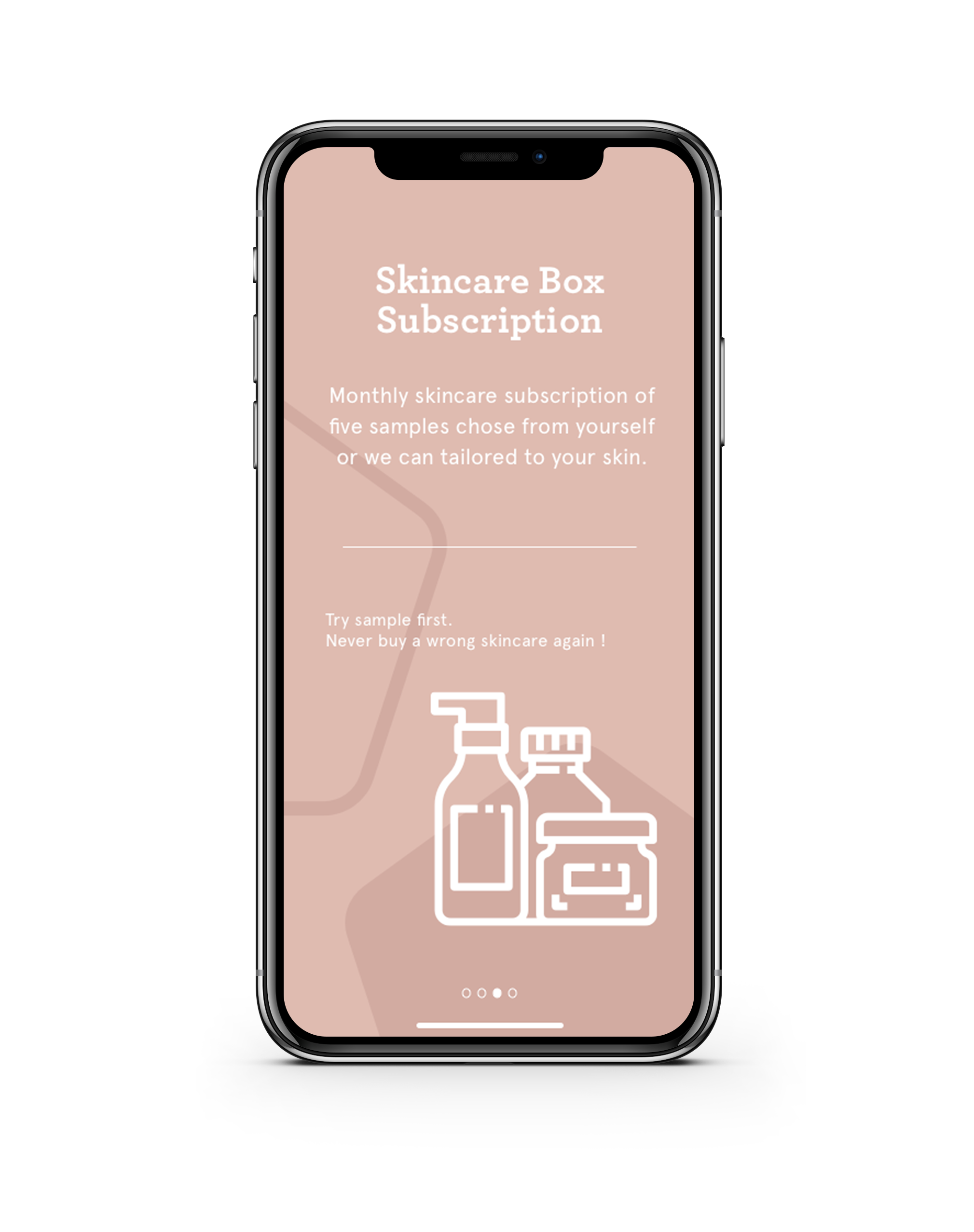 ---
Deliverable 03
Video oriented website
The mission of this deliverable is to spread the right skincare knowledge to the world. I designed a video oriented website, featuring dermatologists and scientists in the videos.

Driver: Skindependence is a reliable media to help people treating right to their skin.
Long Term Objectives
For the long term objectives, we want to keep building our database. Based on the data, we can easily see the trend and also have better understanding the common problems. Accordingly, we can hold events that meet their needs or even create bigger events cooperating with some good brands and organizations. As science advances, Skindependence will embrace new insights into the safety of chemicals in personal care products.

Through Skindependence, we put the power of information in consumers' hands. When people know what's in the products and how those chemicals may affect their health and the environment, they can make informed purchasing decisions—and help transform the marketplace.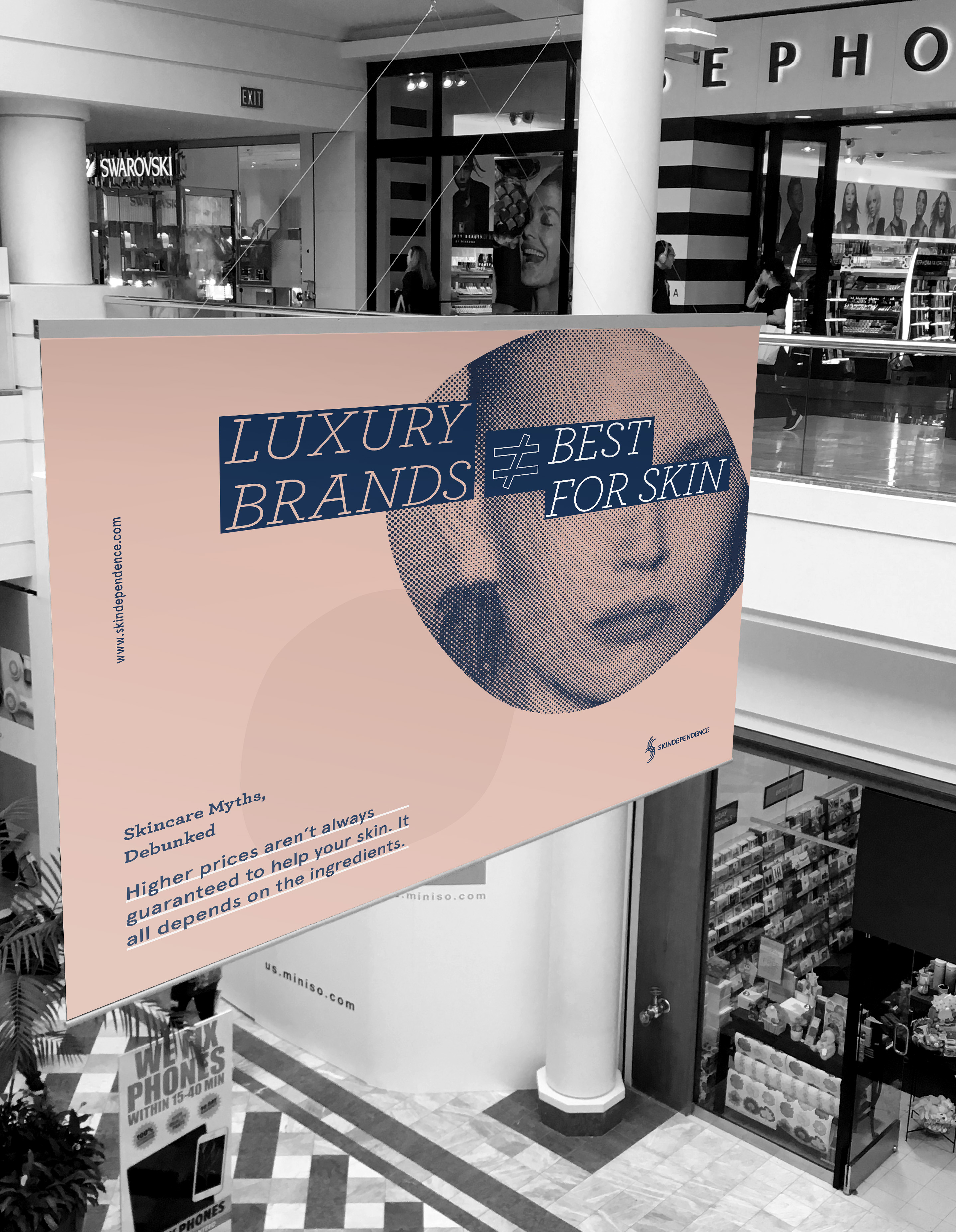 THE DREAMER

Student project at
Academy of Art University
-
DISCIPLINE
Mobile UI/UX, Interaction Design
TIME
6 weeks project


Explore of a chosen topic that identifies an everyday problem and develop solutions through a design approach. The dreamer is an app that documents and analyzes dreams.



---
Sleep is where some of humanity's
most incredible creations got their start.

What would happen if we remenbered?
---
Design Principles
DESIGN PRINCIPLE #1
The function should support the user to easily document their dreams.

DESIGN PRINCIPLE #2
Getting users to use the App habitually.

---
Ideation


Since I only had 6 weeks to finish the entire prototype, I quickly dived into ideation after research.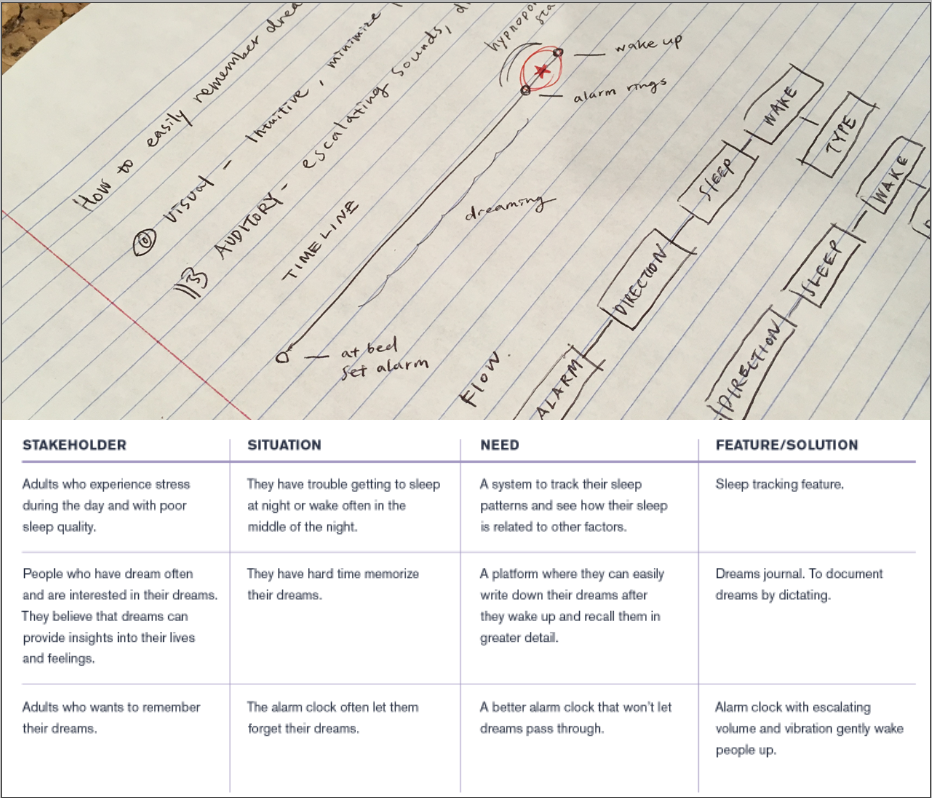 IDEATION ON S.N.N.I.F. AND FLOW
From the difference between visual, and auditory feedback in a sleeping environment, I concluded:
Visual: Minimise cognitive load

Auditory: Can use a series of escalating alarms to wake you up. The gradual increase in volume helps you better remember your dreams by taking you through your hypnopompic state (the transition from asleep to awake) much slower than a standard alarm clock.
COMPETITIVE ANALYSIS
I did additional research for current apps in the market with the goal of:
Understanding the pros and cons of different alarm UI

User flow of the process from setting the alarm to recording function
USABILITY TESTING
After final sketches, I did a quick prototype and here are some insights:
Alarm UI feels mechanic, could be more visual oriented
The "stop alarm" buttom could have more ralationship with the upcomming action
Include simple questions to help jog the memory
COLOR SCHEME
The main color is purple since it often associated with wisdom, creativity, and magic. Combined with light yellow and orange represents incredible ideas that came from dreams.
BELL CENTENNIAL TYPE SPECIMEN
Student project at
Academy of Art University
-
DISCIPLINE
Print, Visual System, Typography
-
Creative Quarterly
2018 Issue 53 Graphic Design: Student Winner

HOW International Design Awards
2018 Student work: Merit Award

Creative Quarterly
100 Best 2018

Create a specimen kit for a chosen typeface. Bell Centennial, designed by Matthew Carter, was commissioned by AT&T in 1974. This telephone directory typeface was designed for aesthetic and technical reasons. The special deep ink traps allows the ink to fill in and smooth out the character stroke, which solves industrial issues.

APPROACH
This type specimen kit brings more attention to this wonderful typeface, Bell Centennial. To celebrate the beauty of the delightful inktraps and to communicate with readers that this typeface not only is legible in extremely small point size, but also looks good as display type. I used pink and Persian green to create retro feeling with a modern twist to reintroduce this beautiful typeface.

A HARVEST HIDDEN IN
PLAIN SIGHT

Student project at
Academy of Art University
-
DISCIPLINE
Print, Illustration

-

Design a conceptual cookbook on a chosen topic. Create a cohesive visual system representing the look and feel of the cuisine. This conceptual cookbook introduces the benefit of common edible weeds in California to the public. Recipes from main course to dessert that use weeds as the main ingredients to encourage people reconnect to nature.

APPROACH
To forage in the wild seems like a fun and relaxing activity, but it actually needs a certain level of knowledge and experience. The forager must be good at observing the natural environment in order to search for food and make sure it is safe to eat. I illustrated plants with call outs to make characteristic and uses of the plant easy to understand. The earthy color palette and the cream paper stock with texture on it convey nature and the spirit of foraging. The typeface, Berthold Akzidenz Grotesk reflects the quirkiness of the plants, Bernier Distressed brings out the roughness, and Daddys Hand indicates warmth.